The Winner of The Best Of Signature Martini in Coral Springs as voted by the Dan I Cook Food Agents, The Taste of Coral Springs and Coral Springs Foodie.com is The Watermelon Mambo Martini by Bonefish Max's Sports Grille!
Again this was a tough one! For the first time, I had a tie with the votes…between Melting Pot and Bonefish Mac's. To break this tie, I brought in 7 more judges who work in the Food/Wine/Beer Industry to pick the winner. Overwhelmingly, Bonefish Mac's was voted the winner!
Food Agent Opinion
Agents Terry and Rebeka M. summed up their mission rather nicely so I'm featuring it. Enjoy!
"Hey Dan! Terry and I finished the mission in like a week! Lol. All of the drinks were pretty good. They were all on the sweet side but our favorite was Bonefish Mac's watermelon. It was refreshing and tasted like fresh watermelon juice, not artificial flavors. I actually drank two! Presentation was just normal, but the bartender put the watermelon pieces on the side instead of in the drink so there would be more room for the alcohol. Can't take points off for that!
We also loved the melting pot one but that seemed like a dessert more than a martini so hard to put it in the same category. But the presentation was cool.
My drink from Nicks might not have been done perfectly because it didn't look like the one you posted. It was separated and very sweet. Maybe i will have to try it again with someone else making it. So our winner was 1st-watermelon 2nd-Yin yang and 3rd-basil.
Thanks for including us! Looking forward to the next one! I will send pics too."
Well done Terry and Rebeka! Thanks again for assisting.
My Opinion
First off none of these drinks were true martinis. They were cocktails in a Martini glass. Trust me, I get it that nowadays you must conceal the taste of the alcohol to make drinks taste good. But, any hardcore alcohol drinker or aficionado knows that is BS. But, again, I get it.
My vote went to Melting Pot because it looked beautiful and it tasted like a Carvel Ice Cream Cake. I swear, if you drink that Martini and have ever eaten a Carvel Cake, you will know exactly what I'm talking about.
As for Bonefish Macs and Nicks…their martinis both tasted excellent. My issues with each of them were that my BoneFish Mac's Martini was missing the watermelon set up and Nick's presentation was lacking…Very minor issues, but not to me.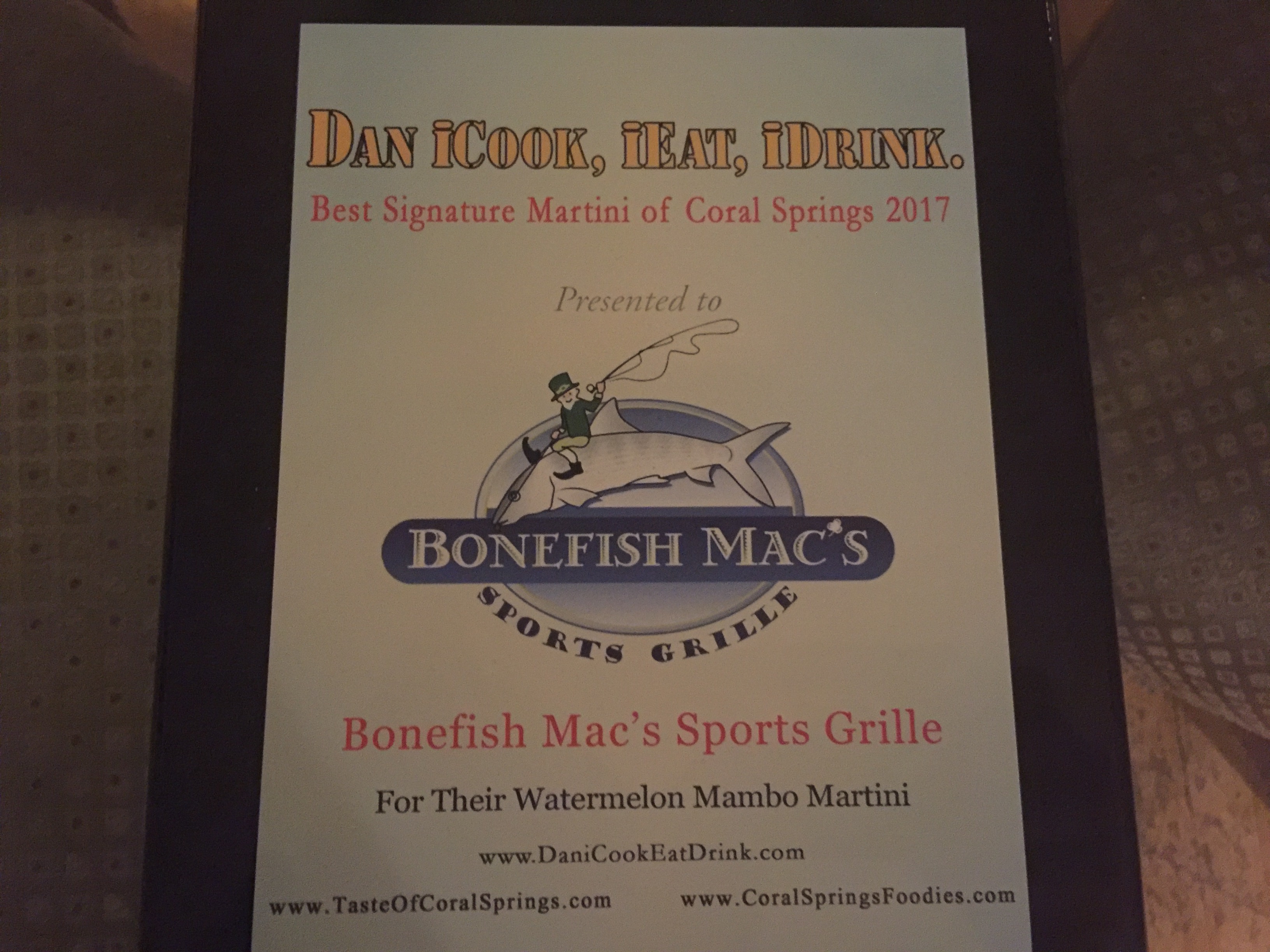 Verdict
Congrats again to Bonefish Max's Sports Grille!!!!!!!
I want to thank all my agents and special panel of judges for taking the time out of their busy schedules to sample each martini. Y'all spent your own money in the City Coral Springs and promoted each business. Y'all are awesome! I can say this about the way I run my Best Of Series for Coral Springs…this is as fair as it gets. Having paying customers decide who has the best product by actually going to the business and judge is such a beautiful thing. Plus, it's very dear to my heart!
Stay Hungry!
Bonefish Max's Sports Grille
Coral Springs
6174 West Sample Road
Coral Springs, FL 33067
Call Us! 954.752.6227