RISE On Up To Some Tasty Biscuits and Chicken!
It seems like every few months a new restaurant is opening in Coral Springs. It's hard to keep track and it takes a lot of money to try and hit all these places. When it comes to new restaurants, I usually don't review them until they have been open at least a year. I prefer to wait so they can get all the kinks out before putting pen to paper. There have been some exceptions to this rule, but it doesn't happen much. So with RISE opening I decided to do a review for the hell of it.
The Food
I had the Chicken Biscuit, The Ham Biscuit, an Apple Fritter and a Honey Glazed donut. The chicken biscuit was damn good! Nice portion of a deep fried chicken breast on a delicious, flaky/buttery biscuit. The batter on the chicken was crispy with a taste of garlic powder. I'm gonna say they are dipped to order and then fried, but I'm not sure. The ham biscuit had the same yummy biscuit with ham that looks like it was cut off the bone. The ham is salt cured and you sure could taste it…the ham was way too salty and greasy for me. But again, the biscuit was wonderful.
The donuts were ok but really didn't knock my socks off. I went with two basic donuts that I would have ordered back in the day from Mister Donut in Wilton Manors. The donuts were not as good as Mister Donut or Dandee Donuts, but they were better than Dunkin Donuts. Reason being…they are made fresh on premises. Plus they have specialty donuts you can't buy at Dunkin Donuts.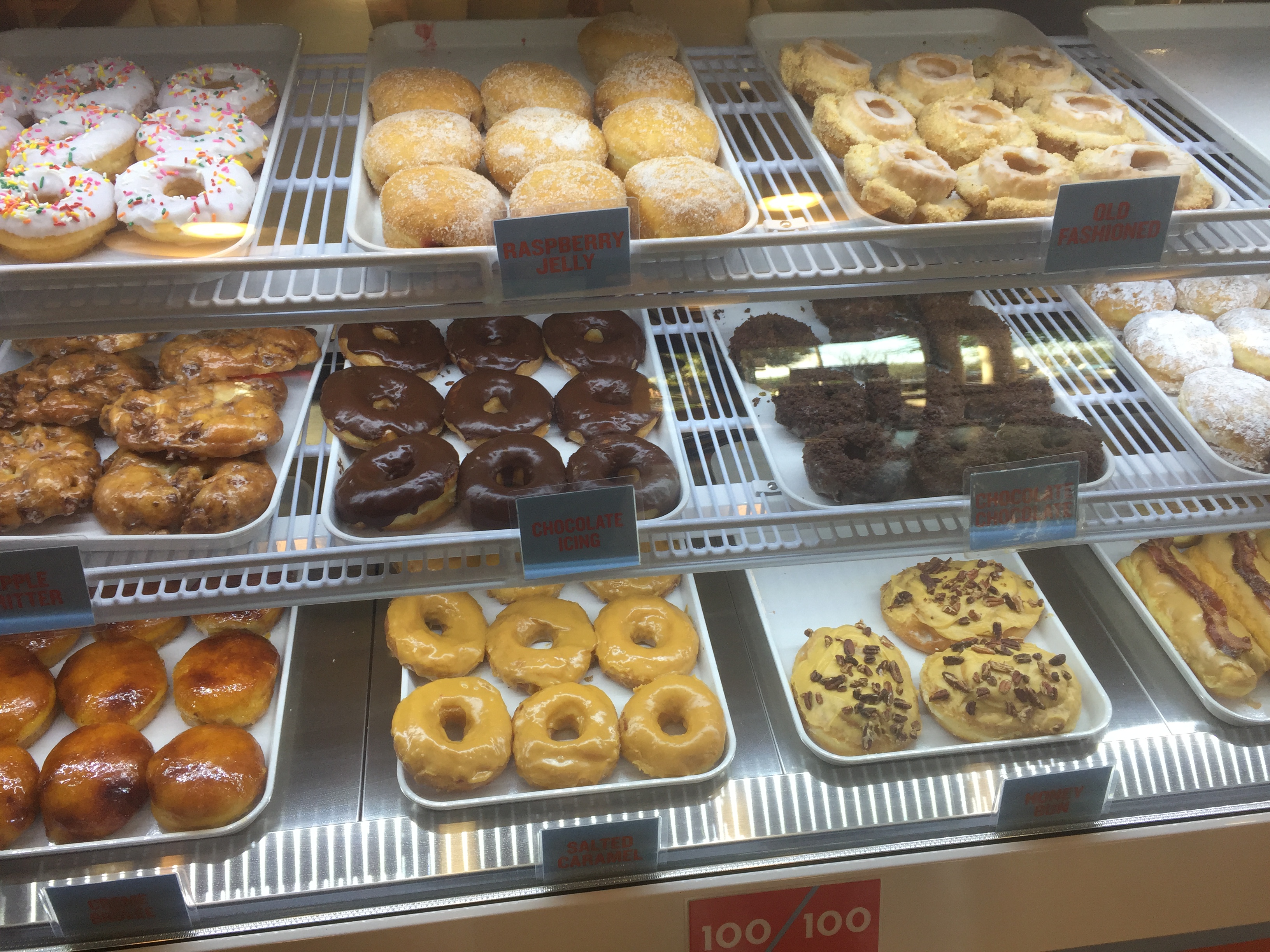 The Ambiance
This place has a whimsical feel with its artwork and viewing areas to watch them create your food. They even have a lower viewing area for the kids and a big black board to draw pictures. There is no seating inside but I saw plenty of customers eating at the outside tables. It's basically a grab and go place. As with most newly opened places they had plenty of staff working. Everyone was very friendly and quick.
Verdict
This may shock you but their chicken biscuits are some of the best I've ever had. I compare this RISE to Chick-fil-A and my opinion…RISE is better. The chicken is bigger with more flavor and the biscuit completely blows Chick-fil-A away with size and taste. As for the donuts…meh. I'm sure their maple bacon, crème brûlée or any other speciality donuts are better than the ordinary stuff. This place gets 3 Beers for their kick ass Chicken Biscuit, clean interior and excellent service. Remember to tell them Dan I Cook sent you and Stay Hungry!
Four beers = Outstanding
Three beers = Good
Two beers = OK
One beer = Needs work
Zero beers= Sucks (No beer is never a good thing.)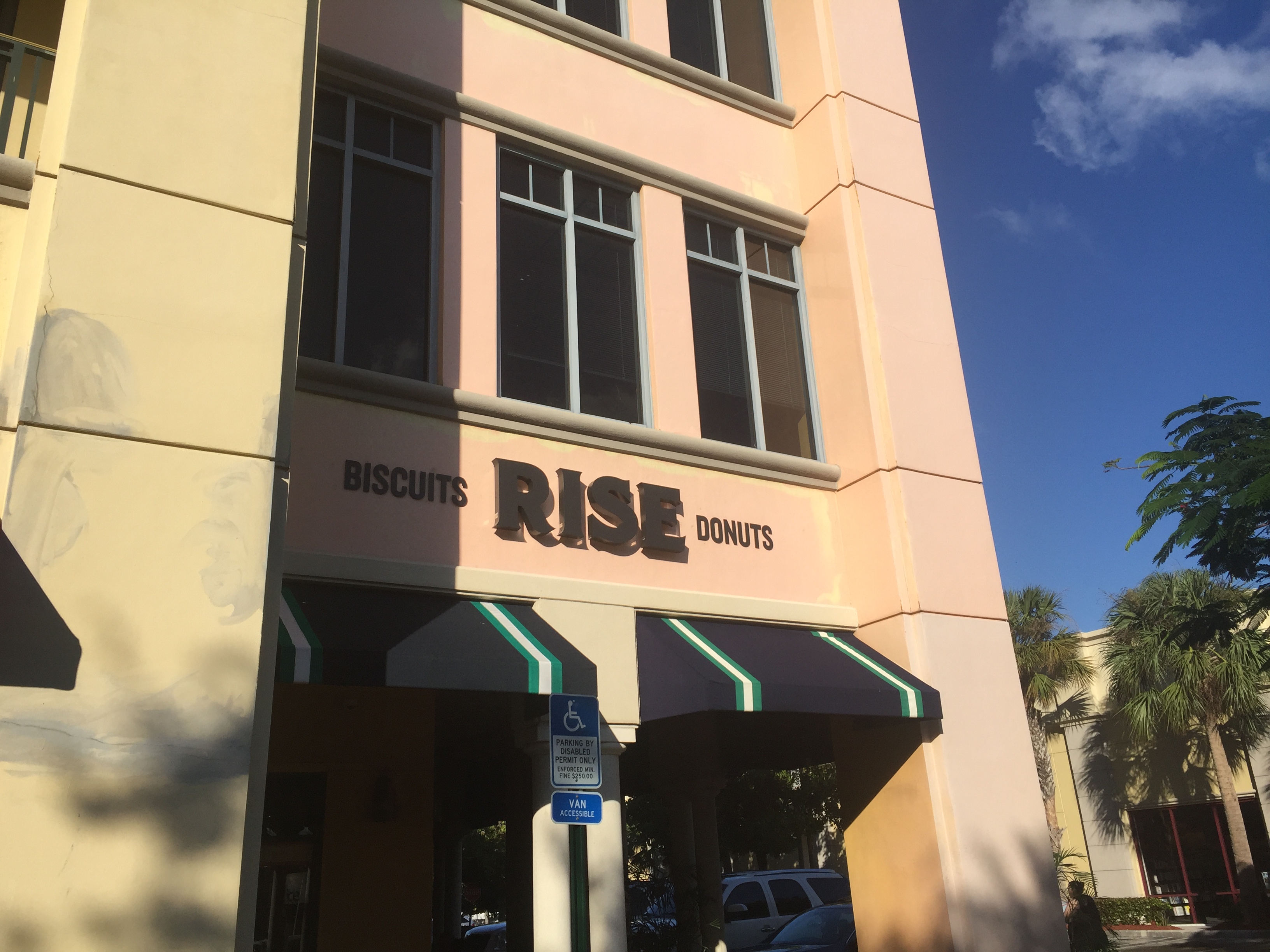 RISE
2764 N UNIVERSITY DRIVE
CORAL SPRINGS, FL 33065
(954)314-8687
Open Daily 7am-2pm