Pete's Place:  A Popular Place I knew Little About.
I've been here a couple times just out of curiosity. I don't hear anyone in my circle of friends talk about this place at all. Not sure why because the food, service, and price for the serving you get are pretty good. I've sat at the counter and at the tables…One thing great about this joint is how clean it is. From the bathrooms to the front of the house, it's very clean and I love that. The only thing I didn't like was seeing the canned and prepackaged food being stored on the metal shelves. When I see "complete" pancake mix in a box and canned corn beef and hash sitting on a shelf it's like viewing the man behind the curtain in the Wizard of Oz. I don't want to dwell on this topic too long because many restaurants use prepackaged/canned food but mom and pop places like this shouldn't need them. Making homemade pancakes, corn beef and hash are not hard. My advice,  store that stuff out of public view. Enough said.
The Food
I ordered a cup of Chicken Cacciatore Soup, and a Calvin's Club Melt, which is described as Turkey, Bacon, Lettuce, Tomato, Mayo, with Swiss on Rye Bread. I asked to substitute the Rye for Sourdough Bread and hold the lettuce and mayo. (Yeah, I'm one of those pain in the ass customers who changes $hit all around LOL.) My server was very polite and had no issues with my order except they were out of Sourdough Bread. No worries… I'll take it on Multigrain instead. On recommendation from my server, I got the seasoned French Fries with my sandwich.
My soup comes out and my server told me it was homemade. It's been a long time since I've had Chicken cacciatore Soup. Come to think of it, I don't think I've seen it on any menu anytime recently. The soup was nice and hot…nice solid tomato and herbed flavor with pieces of white meat chicken making the soup complete. Best thing about this soup was it wasn't salty at all. I wish there was a little more chicken pieces but, for a cup, it was acceptable. This is a perfect soup to dip bread with butter right in. Next time I'll do that.
My sandwich and seasoned fries came out and the portion filled the oval plate. Nice helping of seasoned fries fried to perfection.  Think McDonald fries but longer…piping hot and crispy. The seasonings were a very mild (what I think is a) Cajun blend. Great recommendation from my server. I got a side of ranch dressing to pour on my sandwich. They also give you some sliced dill pickles which I also placed on the sandwich. The sandwich was great! Real turkey slices, crisp bacon, melted Swiss, tomato on a nice grilled bread. Just delicious! Basically, what they made me was a Denny's Superbird which, if you follow me, is one of my favorite hot sandwiches of all time. I wish they had Sourdough Bread because I think it holds up well with the construction of a sandwich like this.
Service
It wasn't that busy when I got there but I went at 10:00 am, which is an off time. The two servers where excellent and very friendly. They kept checking on me and wanted to make sure everything came out as requested. Well it did! Great job ladies!
Verdict
When I posted on Facebook that I never heard anyone talk about this place I was pleasantly surprised by the replies.
My friend Lynne Marie said, "Dan, we (Coral Springs Police Department) attend a meeting with veterans of the Korean War and WWII there every three months. The owner and employees are so accommodating, too. Great place!"
My friend, Raimundo, said, "Are you kidding? It's an awesome place. Great service, hearty dishes and at great prices. I am there every weekend. Great location as well….there is your review, Dan, lol"
Looks like they have a good following and I love that they work with our veterans. For now I'm going to give them 3 Beers. As time goes by, I'll check back to see if they can get to 4 Beers. I will say this, I recommend you go here and support this place. We need more mom and pop businesses to succeed in Coral Springs, Fl. Remember to tell them Dan I Cook sent you and Stay Hungry!
Four beers = Outstanding
Three beers = Good
Two beers = OK
One beer = Needs work
Zero beers= Sucks (No beer is never a good thing.)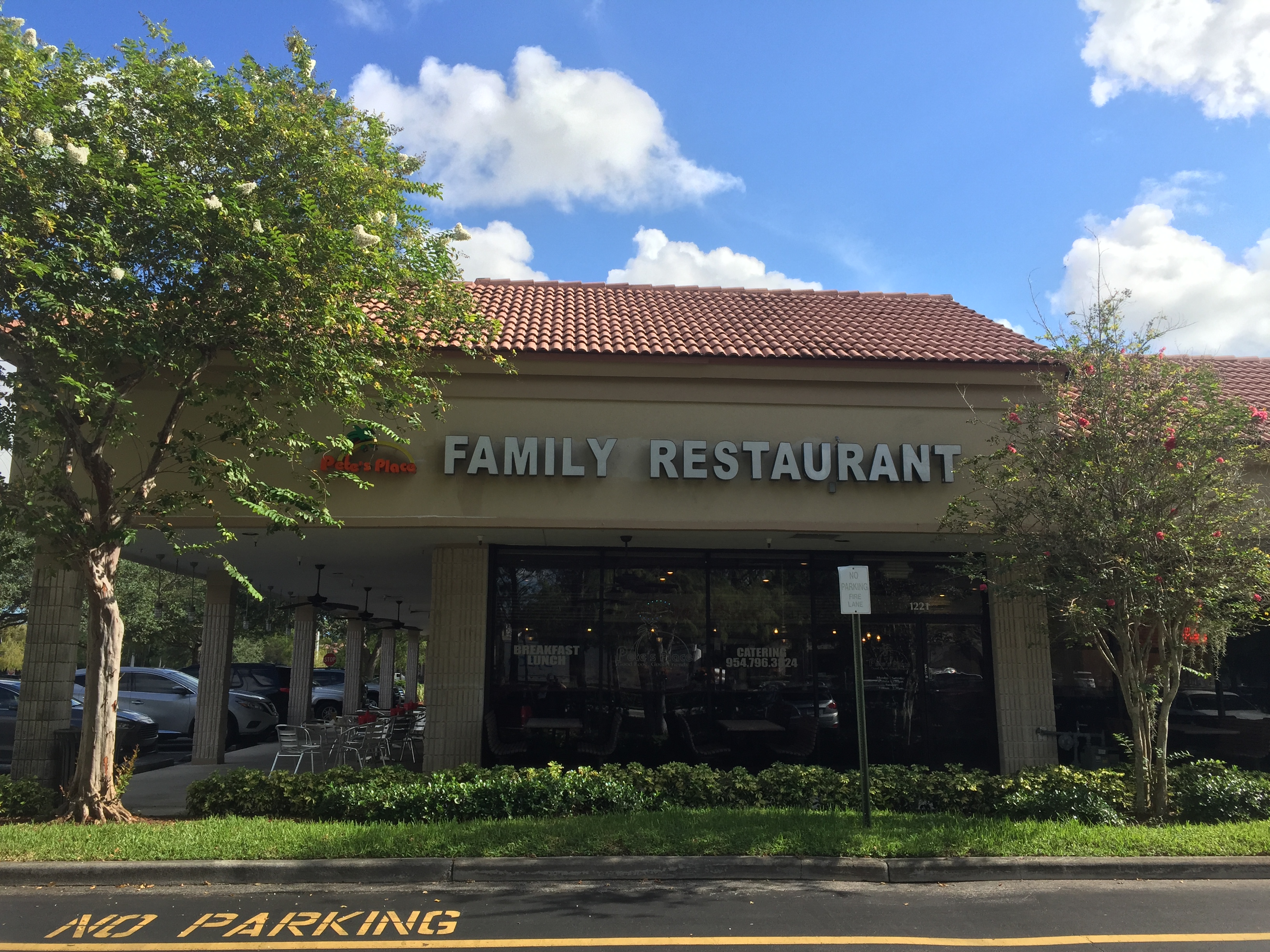 Pete's Place
1221 N University Dr , Coral Springs, FL 33071. 954-796-3824