Los Tacos By Chef Omar:  Unique Flavors with Great Specials
I have never been here before, but I saw an advertisement saying they were giving away free Eclipse Glasses to the first 50 customers. On top of that, they were having Happy Hour all day to celebrate the eclipse, too. Wanting to get the glasses, I head up there with my son and we decided to have lunch (not to look cheap and just get the glasses LOL).
We sit at the bar and meet the Bar Manager, Lincoln…very friendly guy and he explains the menu/drinks. My son orders the queso and chips and we decided to to split the burrito with steak.
The chips and queso comes out and it's a decent portion. I could tell right away the chips were freshly made from tortillas. They were nice and hot along with the queso. It was missing the salsa but they brought it right away when I mentioned it…Out comes small red and green salsas.
Before I get into the meat and potatoes of this review, I'm going to explain something again which I have mentioned many times before.  I am not a fan of true Mexican food. I was raised on American Mexican and I am not going to explain the difference because if you truly love food you know what I'm talking about. All true Mexican food that I've eaten over the years has been to bland for my taste.
On with the review. The chips were dynamite with great crunch and thick, too. The green salsa was my favorite because it packed some heat and decent flavor. The queso was white with a very thin consistency…nothing like the yellow cheddar based queso some of y'all are used to. The flavor was interesting in a good way. Lincoln said they use three different types of cheeses in it but he didn't know what they were. I love cheese and I couldn't decipher what style of cheeses were used, either. I would image a queso blanco was in the mix,  but I'm not a pro on Mexican cheeses. As the queso cooled down, it started to thicken to the texture I'm used to. Overall, it was different but very good. The burrito came out and the presentation was outstanding. It was covered in a white cheese sauce and was a nice portion. I took a few bites and it was delicious! Again, it had flavors I'm not accustomed to but it definitely was not bland. The burrito had a soy sauce taste which I know it sounds strange, but I loved it. I added some of the green salsa and I was in heaven. Excellent presentation, serving, and taste. My son was also shocked on how good the food tasted.
Lincoln told us they have flavored tequilas and he let us try some. We had the watermelon tequila which had a nice crisp fresh taste to it. No need for salt or lime on this baby. He also told us about the happy hour where drinks and beers are two for one usually from 3p to 7p, but on this date it was all day. I had a couple of Corona Lights which were warm :(… I told Lincoln and asked for an ice bucket to place my beer in. He did that immediately and explained he just put the beers in the cooler so that's why they were not all the way cold…See, I like honestly and that impressed me. Lincoln continued to say that tomorrow (Tuesday) was 2 Dollar tacos. It was then that I decided I would come back and write a review of this place. My son and I thanked him, took our free eclipse glasses and told him we would be back tomorrow.
Taco Tuesday
We return the following day around noon for the 2 buck tacos. There were only 7 people, including us, having lunch. I figured this place would be mobbed. My son and I sit at the bar again and order guacamole and chips as an app. We also ordered 1 ground beef taco and 1 pork on flour tortillas just to sample. Our app comes out and it's a very nice portion. The guacamole is vibrant green with tomatoes and onions mixed throughout with white shredded cheese on top. I grabbed a chip and immediately noticed it was room temperature not hot like yesterday. Since I've never had this at this restaurant I figured that's the way it is suppose to come. I take a big scoop of guacamole using just the chip and it doesn't break. Again these chips are thicker than the ones I'm used to. The taste is excellent. I added their green hot sauce and it tasted even better. As I was chowing down, I kept thinking, I wish the chips were hotter. I finally asked our server if the chips were supposed to be hot and she replied, yes. I told her they weren't. She basically said, "Oh" and walked away. Meanwhile, my son was not happy I said anything so I let it go. I thought it was weird she didn't ask me if I wanted new "hot" ones, but oh well.
Our tacos come out and again they are a nice portion. I noticed that they did not come with lettuce, cheese or pico de gallo. I asked the server about this and she said the 2 buck ones only have onions, cilantro and lime. It doesn't say that anywhere on the menu but, what the hell, its 2 bucks. I added a squeeze of lime to my ground beef taco and took a huge bite. This thing was damn good! It was very savory and was not even close to being bland as all the other true Mexican places I've eaten at. I ordered the chicken and pork tacos, too. The pork was my favorite because it had a nice kick of spice to it. My son order the ground beef burrito and he loved it. Lastly, my Corona Light came out ice cold.
Ambiance
There isn't much to this place. Noting really pops out and says this place is gorgeous. It looks like a place you would find in Mexico. No frills but good food. Since they have big windows that wrap around this place it gets plenty of natural light which is good. They need to clean them a little better. Lots of smudge marks from hands on a lot of the windows.
Verdict
I have only been here twice and I think food consistency may depend on who's cooking. Friendly service, but I can see how service speed/efficiency could suffer if this joint got busy. On Tuesday, there were only two servers working and it looked like one chef. There were only 7 customers , including us, in the restaurant. We got there around 1245p. This place should be packed, especially on Tuesday…not sure why it wasn't. Overall the food is good, different, and priced fairly. I wonder how business is on the weekends and what other diners think of the place. I'll give them 3 Beers for now.  Remember to tell them Dan I Cook sent you and Stay Hungry!
Four beers = Outstanding
Three beers = Good
Two beers = OK
One beer = Needs work
Zero beers= Sucks (No beer is never a good thing.)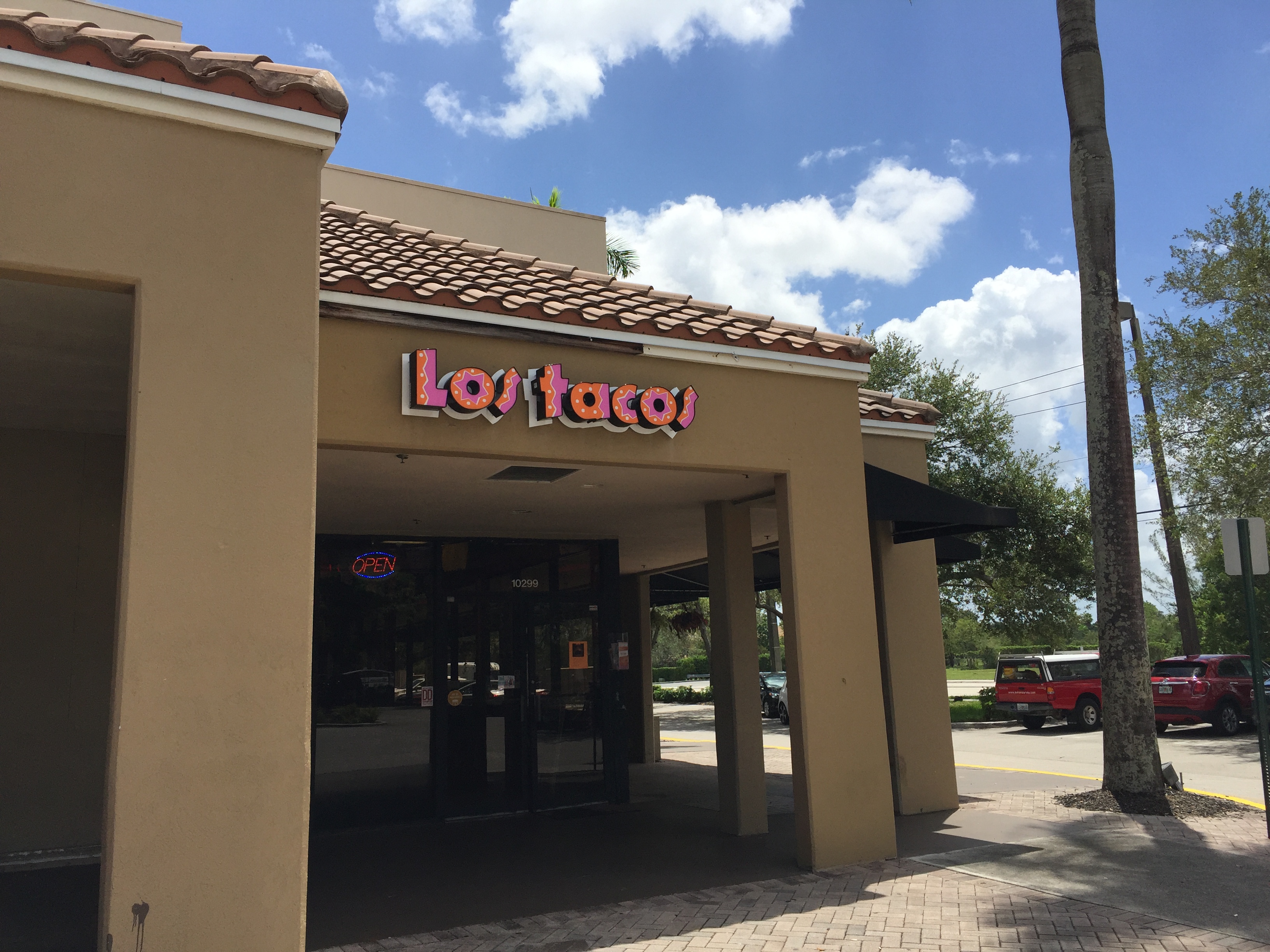 Los Tacos
10299 Royal Palm Blvd, Coral Springs, FL 33065-4851