Larry's Ice Cream and Yogurt:  Open 30 Years in Coral Springs, Fl. and Still Going Strong!
I follow Larry's Ice Cream and Yogurt on Facebook and they always post something delicious to look at. Sadly, I've only been here once before… with no complaints, I might add. Truth is, I really don't go out for ice cream or even eat it that much as I've gotten older.
For some reason I was in the mood for ice cream after having some soft serve recently at Dairy Belle in Dania Beach…Off I went to Larrys.
Ambiance
Right when you walk in you see a banner proudly displaying they are celebrating 30 years in business in Coral Springs. Great accomplishment and congratulations! Upon entering, you immediately get the feeling you are stepping back in time. The red and white color scheme takes you back to the old style ice cream shops. They have seating at the counter, tables and booths within. It's not a big place but it's LARGE when it comes to ice cream selections. They have three refrigerator cases filled with hard ice cream and frozen yogurt. They also have soft serve yogurt with over a dozen toppings for your ice cream needs. They even serve food which includes sandwiches, chicken fingers, cheeseburgers, hotdogs, wraps and fish filet sandwiches. The menu is posted on a blackboard behind their little kitchen area. With that being said, I haven't eaten here (really didn't know they even served food). They should probably post some of their food on Facebook, too (hint, hint). You want an ice cream cake? They have them, too, along with other frozen treats to choose from which are located in another clear standing refrigerator case. Last but not least, they have a prize wheel you can spin to get discounts on your order. On this day, if you bought a Root-Beer Float you were eligible to spin the wheel.
Ice Cream
I ordered a large Toasted Coconut Sundae with crushed pineapple, caramel syrup, whipped cream, and a cherry. The hard ice cream is made by The Ice Cream Club. Not sure who makes the frozen yogurt. My server scooped out my ice cream and I was eating my sundae within minutes. What can I say except it was great! No frills, bells or whistles just a good solid sundae for a reasonable price.
The Verdict
You have to ask yourself, what makes an ice cream shop great? Well let's see….friendly and efficient staff. An environment that makes you feel like a kid. Lots of selections of hard ice cream with the availability of soft serve. Lots of toppings. Ice Cream Cakes and ice cream treats. Affordable prices. Let us not forget a great product…..ice cream. So my rating for this joint is as easy as a sundae morning (LOL). Instead of rating this place by Beers I've changed my scale to Ice Cream Cones. 4 Ice Cream cones to you Larry! I hope you stay around for another 30 years and thank you for you dedication to our community.
When you visit make sure you tell them Dan I Cook sent you and Stay Hungry!
Four Ice Cream Cones= Outstanding
Three Ice Cream Cones = Good
Two Ice Cream Cones = OK
One Ice Cream Cone = Needs work
Zero Ice Cream Cones = Sucks (No Ice Cream is never a good thing.)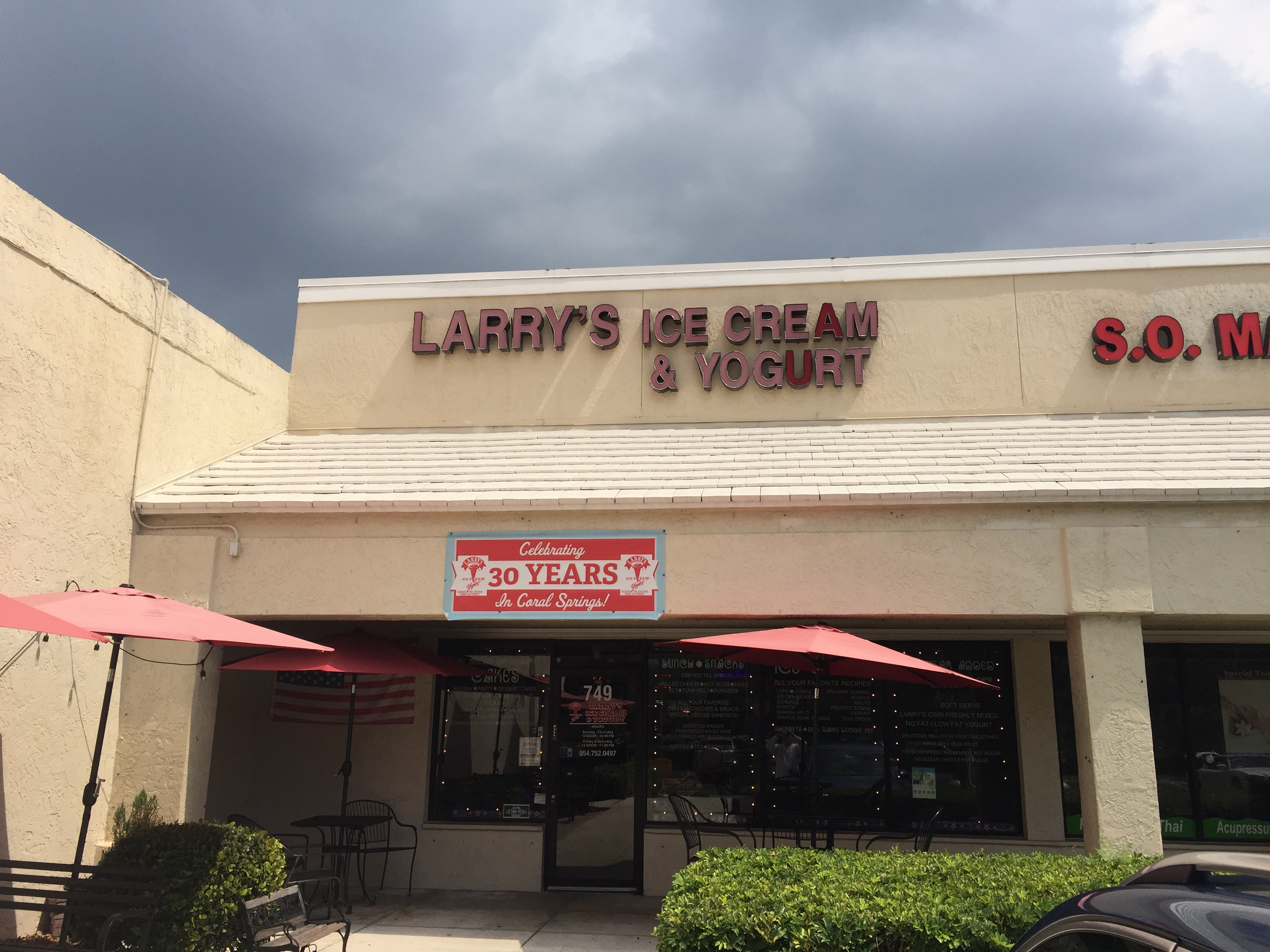 Larry's Ice Cream and Yogurt
749 North University Drive
Coral Springs Fl. 33071